Early years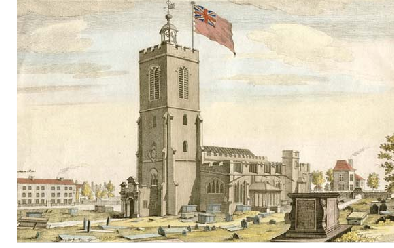 Like most of the Briscoe family, William, the first Briscoe in this history, has proved an elusive figure, partly because of the various spellings of the Briscoe surname. According to the age on his death certificate he was born around 1798; it is not known where although in 1828 he was living in the east London parish of Stepney. He may have been born there, but the early nineteenth century saw the beginnings of the migration to London from the countryside and it is just as likely that he moved to Stepney from another part of the country. Stepney had seen a period of rapid growth in population at the end of the sixteenth century with the development of the riverside and eastern suburbs of the City. As a result of the increase in buildings and inhabitants, Stepney, which had been divided into four hamlets, was further divided, and the name Stepney came to signify little more than a geographical area around the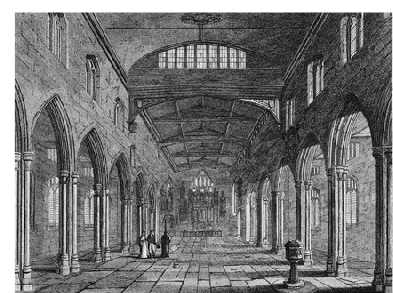 Church of St Dunstan.
By 1828, William had met Harriet Baker. Although living in Stepney, she had been born in Cobham in about 1805. There are two villages of this name: one in Surrey and one in Kent. A later census return gives her place of birth as Surrey, although there were a large number of Bakers living in Cobham in Kent. Wherever she was born, no doubt Harriet migrated to the capital in search of work. On Sunday 11 January 1829, William and Harriet were married at the ancient parish church of St Dunstan and All Saints. Unable to read or write, William stated his name and made his mark in the register with an 'x'. Perhaps because of the cavernous interior of the Church his name was recorded in the marriage register as 'Briscall'. It would be the first of many such errors. Harriet signed her name.
After their marriage, William and Harriet remained in Stepney, and in the summer of 1830 Harriet gave birth to a daughter whom they named Harriet. She was baptised at the Church of St Dunstan in August 1830. William's occupation was given as the ubiquitous term, 'labourer'.
A move east
After their daughter's birth, William and Harriet moved east to Bromley-by-Bow. Bow was still a separate village although stretches of the Mile End Road and Bow Road were lined with shops and houses, gradually joining Bromley-by-Bow to the eastern edges of the City, as can be seen in this map of 1827. Perhaps Harriet missed the rural environment of her birth.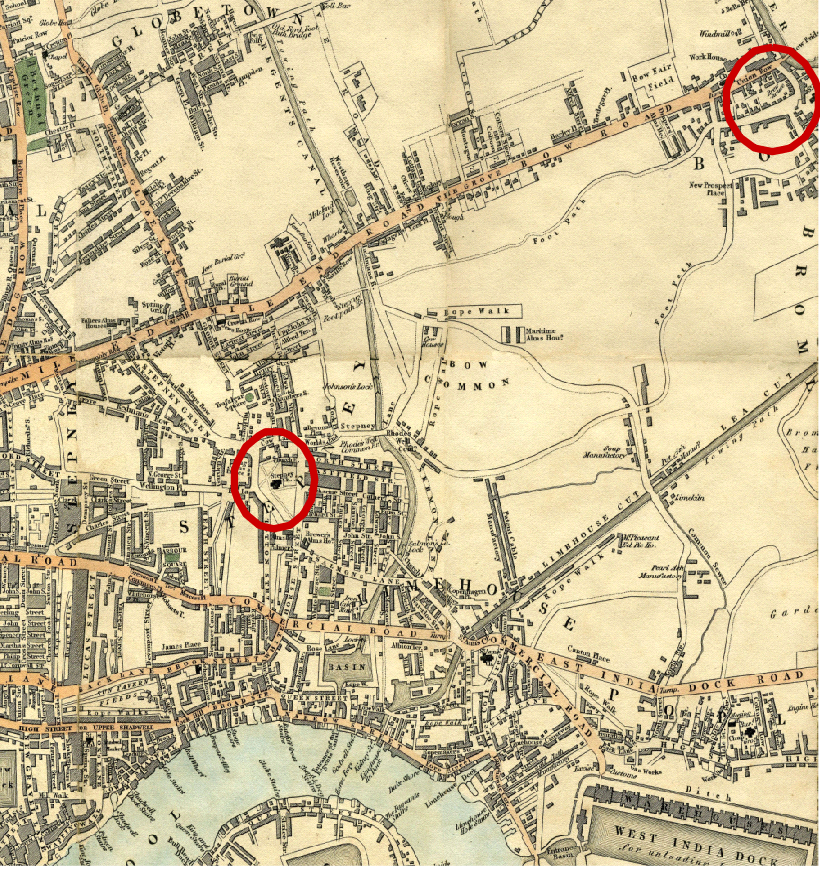 About this time, and only a few months after the birth of her first child, Harriet was surprised and a little dismayed to find herself pregnant; Elizabeth was born in July 1831 and baptised at the Church of St Mary, Stratford (pictured below), as were two more children: Mary Ann (14 August 1833) and William (4 January 1835).
By 1838, William and his family were living at Three Mills Lane, so called because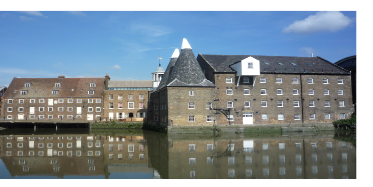 it ran alongside the three mills that had stood on the site since the thirteenth century. The mills were powered by the tidal flow of the River Lea and had originally milled corn and flour but by 1767 had been converted into a d
istillery (see the photograph on the left). It was whilst living here that William and Harriet's son, William, died shortly before his fourth birthday in November 1838. The cause of death was given as 'inflammation of the bowels'. Following his death William and Harriet moved to the High Street where Harriet gave birth to a daughter, Emma, just before Christmas 1839. Any joy felt with Emma's arrival was tempered with the death of their daughter, Mary Ann. Between 1840 and 1849, Harriet gave birth to five more children: Lucy, John, Charles, Rebecca, and Alfred. At about the time that Alfred was born, his elder sister, William and Harriet's eldest daughter, Elizabeth, married a labourer by the name of Thomas Nash; this still left seven children for William and Harriet to feed and clothe.
Parish relief
T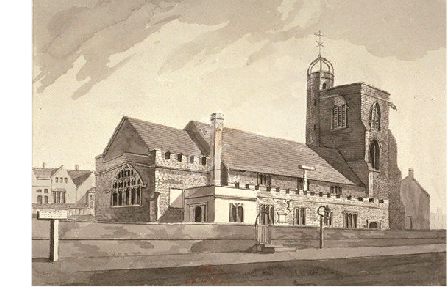 he winter of 1848 was particularly difficult with little work available in the docks or in the factories, resulting in a surplus of labour. William could not earn enough to feed his family and Harriet may have gone to the Workhouse to apply for Parish relief. If granted, it would have lasted for only a few weeks and once it stopped, Harriet had little choice but to return to the Workhouse, even though the Institution filled people with dread. One old woman interviewed by the chronicler Henry Mayhew in the 1850s told him:
"I have had a piece of dried bread that I steeped in water to eat. I haven't eaten anything else today; but, pray, sir, don't tell anybody of it. I could never bear the thought of going into the "great house"; I'm so used to the air, that I'd sooner die in the street, as many I know have done ... I'd sooner die like them than be deprived of my liberty."
But with seven children, the eldest only 11-years old, Harriet had little choice and in the Autumn of 1849, they arrived at the gate of the Workhouse in Poplar High Street. The Poplar Poor Law Union was constituted in 1836, formed of the parishes of Bromley-by-Bow and Poplar. Poplar High Street Workhouse had been built in 1735 but a male infirm ward, separate children's accommodation and a casual ward with an adjoining stone-breaking yard were added after the Union took over its management. However, in the 1850s, the Poor Law Board's Inspector criticised the accommodation and described the workhouse as 'inadequate in size and inefficient in arrangement'.
Harriet was interviewed by the Board, an intimidating experience, before being granted admission. She and her children were washed and examined to establish their state of health and to make sure they were not carrying any infectious diseases. They were then issued with Workhouse uniforms, their own clothes being cleaned and boxed, waiting for the day they would be discharged; the children's hair might also have been cut. It was a humiliating experience.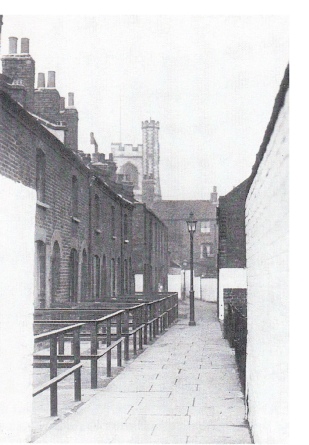 However, judging by the comments of the Workhouse school mistress, Abigail Roberts, who complained that the children were dirty when they came to her class, the Poplar Workhouse was not very diligent in its admission process, or perhaps it merely struggled to clean children who were unused to soap and water — hardly surprising when the poor had only communal stand pipes to supply often polluted water. Harriet and her children were then classified to determine their food allowance and in which part of the workhouse they would reside. The younger children, Alfred, Rebecca, Charles, John and Lucy, remained with Harriet in the women's ward, whilst Emma and Sarah were placed in the children's ward. Harriet may have been allowed to see them once a day.
But what of William? He was not recorded as an inmate and it appears that he remained outside the Workhouse. This is unusual as families were generally expected to be admitted together. There are several explanations: he may have been trying to earn enough so his family could leave the workhouse, he may have deserted them, or he may have been refused admittance for whatever reason. Either way, Harriet and her children remained in the Workhouse until Easter Sunday 1851; they had been inmates for about a year and a half. Five years later, in December 1856, William was dead, dying of bronchitis on 6 December 1856 at Bakers Alley in Bromley-by-Bow; his daughter Elizabeth was present. Baker's Alley is shown in the photograph above in about 1920, the tower of the Church of St Mary visible in the background; when Charles Booth surveyed it the late nineteenth century, he found the inhabitants to be very poor and in chronic want.
The Briscoe family holds court
By 1861, Harriet was living at 8 Oliver Court with Lucy, John, Charles and Alfred. She remained there for the next 30 years. One of the many courtyards that ran off of Bow High Street (Oliver Place is marked in orange on the map below), it became something of a stronghold for the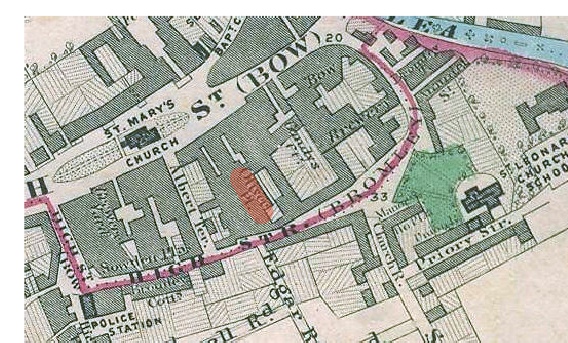 Briscoe family, also housing Thomas and Elizabeth (née Briscoe) Nash, and their son, Thomas, and his family; Charles and Maria Briscoe; and also a George and Sarah Briscoe, who were almost certainly related. It was here that Harriet died on 24 September 1893. She had developed heart disease which, for the past two months, had caused her body to swell. Despite her difficult life and poor conditions, she had survived to her late 80s. Harriet's daughter, Elizabeth, who had attended her own father at his death, was with her mother when she died.