According to the burial entry in the register of the Church of St Dunstan in Stepney, Nathaniel Sykes was forty-seven years old when he died in 1824. This would give his year of birth as 1777.

Although Nathaniel's baptism has not been traced, his parents were almost certainly Nathaniel and Elizabeth Sykes who lived in Limehouse, near the Ratcliffe Highway. Nathaniel and Elizabeth baptised two other children: Mary in 1784 and Elizabeth Ann in 1799, and the records show that Nathaniel's father was a rope and a sail maker.
Ratcliffe and the area around the docks was home to a variety of trades, many of them connected with the navy: rope makers, sail makers, coopers, shipwrights, carpenters and victuallers -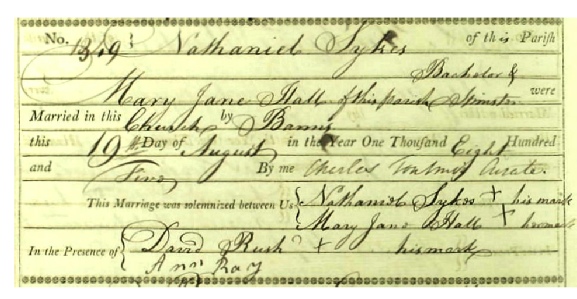 not to mention inns and brothels which did a roaring trade particularly when ships docked. By the late 1780s, the young Nathaniel began to learn the trade of rope making. The final years of the eighteenth century were good for such trades: Britain went to war with her old adversary, France, in 1792, and with battle raging on land and a sea, rope and sail makers were in demand. Until 1811, ropes were made entirely by hand. The hemp fibres were combed straight and then spun into yarn. This was then tarred to weather-proof it and stop in rotting. Once dry, it was ready to be formed into strands. This process was carried out at 'rope walks', stretches of ground long enough to accommodate the necessary length of rope. The rope maker would walk backwards from a spinning hook on which the strands were attached, the dressed strands of hemp coiled around his waist.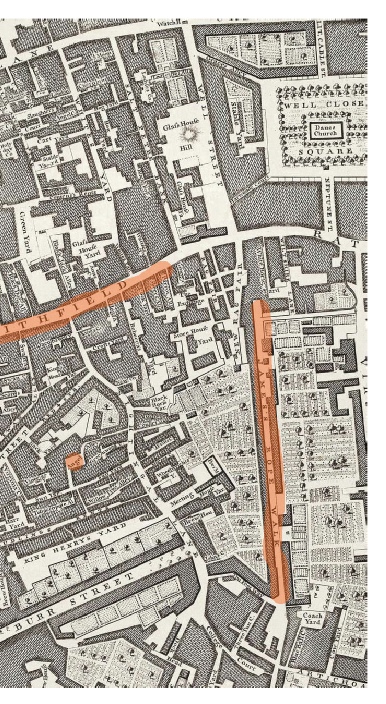 The map below dates to about 1800 and shows James's Rope Walk in Ratcliffe.
On 19 August 1805, Nathaniel married Mary Jane Hall at the Church of St Leonard, Shoreditch. Bride and groom both made their mark with an 'x'. Presumably, St Leonard's was Mary Jane's parish church as, by April 1807, when their first child, Mary Ann, was baptised at the Church of St Dunstan, Nathaniel was back on the familiar turf of Stepney. Over the next twenty years, seven more children were born, all of them baptised at St Dunstan's: Mary Ann (1807), Nathaniel (1810), Thomas (1812), William (1814), Sarah (1817), George (1820), Charles (1822) and Mary Ann (1824). The records show that Nathaniel continued to work as a ropemaker.
Nathaniel died in late April 1824 and was buried at the Church of St Dunstan in Stepney on 3 May. His infant son, Charles, was baptised a few weeks later on 26 May. Mary Ann may have been born after his death and was not baptised until 1831.