John Grigg was born in about 1783 and baptised on Christmas Day 1783 at Christchurch in Oldbury, to the west of Birmingham. There were a number of Grigg families living in Oldbury at the time and his parents were probably Thomas Grigg (1747-1803) and Mary Ruston who had married at the same church on 27 October 1775. Between 1776 and 1802, eleven children were baptised by 'Thomas and Mary Grigg' at Christchurch (three of whom were buried in infancy), who may have been John's younger siblings.
Oldbury is in the heart of the Black Country and from the late eighteenth century it grew rapidly as a result of the industrial revolution. One of the main sources of employment was mining. There had been open cast mines in the area for hundreds of years and deep cast mining took off from the late eighteenth century. John's family were probably miners and John would have started working at the coal face from a young age - u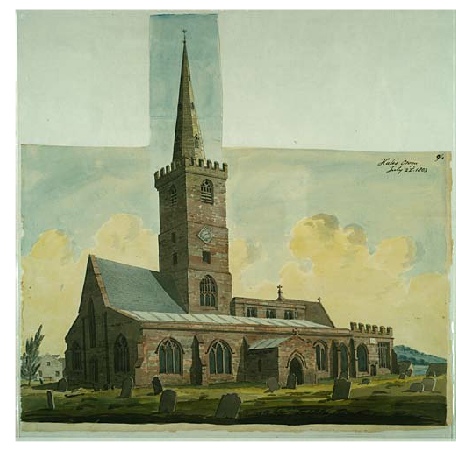 nsurprising since, by the mid-nineteenth century, a quarter of Oldbury's population was employed by the local collieries.
On 20 February 1804, John married Sarah Page in the Church of St John the Baptist in Halesowen. The watercolour on the right was painted by Reverend Williams a year earlier.
A year after their marriage, Sarah gave birth to a daughter who she named Sarah. Another daughter, Ann, followed in 1807. No more children are known for the next eight years, although it is likely that Sarah gave birth to children who died in infancy. The next records that have been traced are for Elizabeth and John, both baptised around 1815. Three more sons followed, Joseph in 1817, Thomas in 1818, and Daniel in 1824.
In 1841, John and Sarah were living in Shidas Lane in Oldbury with Daniel and Joseph. John was working as a coal miner. A few years later, the family had moved to Brickfield Lane, where Sarah died in May 1844. After her death, John lived with his children and in 1851 they presented an unusual household. John's son, Daniel, was described as the 'head of the household' and was working as a miner. Living in the house were also John's son, Joseph, John's daughter Ann and her two children, Mary Ann and Samuel; Mary Ann had a three-month old illegitimate child, Edward. John and his three siblings had all been widowed. It was a lot of mouths to feed and John received parish relief from time to time. When he died on 9 May 1858 at Canalside, Halesowen Street, he was described as an 'almsman - formerly coal miner'. He was about seventy-five years old and the cause of death was given as 'senility'.