Early years
Joseph was born around September 1834 in Highgate, the first child of Samuel and Mary Ann Collins, and was baptised a few weeks later on 12 October 1834 at the Church of St Michael.
Highgate was a pleasant place to grow up, and although Joseph's family worked hard and had little time to spare for the leisurely pursuits that attracted the more well-heeled to Highgate and nearby Hampstead, there was sufficient time for a child to play on the heath and explore its wooded slopes. Highgate also provided a opportunities for the working classes, and there were a great many craftsmen and artisans; the 1831 census records brick-makers, bricklayers, glaziers, plumbers, plasterers, house-painters and carpenters, as well as bakers, dressmakers, washerwomen and charwomen. So whilst Joseph's father, Samuel, had arrived from Wavendon in Buckingham as a labourer, by the late 1840s he was working as a fishmonger, a respectable occupation which gave the family a modest standard of living.
Leaving home
By 1851, Joseph was working as a general labourer. He and another labourer, Samuel Dawkins, were lodging with a local family on North Hill. As his parents were just a short walk away at Ward's Cottages, it is surprising that Samuel had moved out; his parents also appeared to be sharing the cottage with another family so space was not the issue. P
erhaps there had been a falling out or Joseph was keen to start out on his own. Certainly by the late 1850s he had left Highgate and in 1859 was living at Norlands near Holland Park in west London.
By this time he had met Ann Elizabeth Shepherd. She was from Finchley and in 1851 had been living with her parents, William and Sarah. Whether she was working in Norlands or Joseph was living in Finchley is not known, but in the Spring of 1859 she discovered she was pregnant. On Monday 13 June, she and Joseph went to the Church of St James in Norlands where they were married, giving their addresses as 25 Princes Road West, Norlands (now called Princedale Road).
Their first child, Annie Maria, was born a few months later, and was baptised on 13 November 1859 at the Church of the Holy Trinity in Finchley. Perhaps having their daughter baptised in Finchley was a gesture of reconciliation by Joseph and Ann to their parents now that their relationship had been sanctioned by the church.
By the Spring of 1861, Joseph and Ann had moved to 13 North Street in Marylebone (now Aybrook Street, although there is little left that Joseph would recognise) where they rented one or two rooms. Joseph was working as a bricklayer's labourer and Ann as a slip maker. In the census of that year, there is no mention of their daughter, so presumably she had died in infancy. The following year Joseph and Ann moved a few streets away to 43 D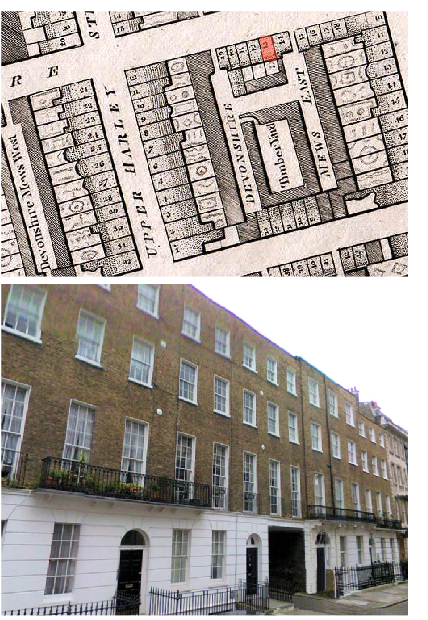 evonshire Street. It was a typical four-storey Regency town house plus garret and basement, and was shared by five families including two families of Irish bricklayers, so each family would have rented a floor consisting of two rooms. The houses still stand and number 43 is pictured below. It was here that Ann gave birth to their second child on 15 October 1862. They named her Annie.
On the move
Between 1863 and 1865 Joseph and his family moved out of London to Childs Hill to the north west of the city. Perhaps they wanted to escape the every-expanding Metropolis and head for the greener, open spaces that Joseph had been accustomed to as a child, or perhaps it was an economic move to find work and capitalise on the opportunities that London's expanding suburbs provided.
Childs Hill is situated on the north west side of Hampstead Heath and in 1865 was surrounded by green spaces. A map of the period shows a village surrounded by small fields and farms. However, Childs Hill was growing rapidly and terraces of artisans' houses were springing up; by 1863 a school and the Church of All Saints had been built in the village and in 1867 the railway arrived. As a result, the population rose from 906 in 1861 to 2,138 in 1871, and some reports described it as a 'very low' place, with cock-fighting, drunkenness, vice, and housing which, in 1903, was described as a 'disgrace to civilisation'. This population boom created jobs and must have stood Joseph, who was now working as a painter's labourer, in good stead. Ann took a job as a laundress, not surprising given that by 1886 there were eleven laundries operating in Childs Hill, aided by the natural sources of water and the demands of neighbouring, affluent Hampstead.
Soon after moving to Childs Hill, Ann gave birth to a third daughter, Alice. Emily followed a couple of years later, until on 2 February 1870, a long-awaited son was born. They named him Henry
Joseph. Ada followed in about 1874 and William in 1876. By the time of the 1881 census, the family had moved to Temple Fortune, about a mile north of Childs Hill and to the east of Hendon. They were living at 2 Park Row (shown as 'Hendon Park Row' left of centre on the map below), which they shared with a family called Pickering, the head of whom was a grocer. Temple Hill was a cluster of about 60 houses, Temple Fortune Farm and a pub, the Royal Oak; at the end of Park Row was a foot path across the surrounding fields. Here, Joseph continued to work as a painter's labourer whilst his family expanded: Louisa in 1880, and George in about 1882.
By 1891, Joseph and Ann, with their four youngest children, together with their elder daughter, Alice, who was 26 and unmarried, had returned to Childs Hill. In the intervening years, Childs Hill had grown rapidly and now boasted the Pyramid Light Works, a rifle range and a great deal more houses, including spacious 'villas' for the growing number of middle class residents. Joseph and his family were living in more modest accommodation at 4 Ebenezer Mews, a row of small houses not far from the High Street and the Castle Hotel, public house (marked on the map below). Joseph continued working as a house painter. It must have been strenuous work for a man of his age, and his death certificate records that he died of senile dementia, exhaustion and heart failure. He died at Ebenezer Mews on 15 September 1899.