Early years
The son of Thomas Gregory and Mary Gray, Thomas was baptised on 2 April 1820 at the Church of St Margaret in Barking, the church where he would later baptise two of his own children. Like his father, he had no skilled profession and worked as a labourer, moving between Barking and the east of London depending on the seasons and the availability of work. It was a precarious, hand-to-mouth existence.
It was whilst living in London that he married Maria Sissey on 5 April 1841 at the Church of All Saints in Poplar (shown in the photograph on the right). At the time, Maria's family were living in Ripple Side, a hamlet near Barking, and it is likely that Thomas had been acquainted with the family for some time. Whether Thomas and Maria were living in Poplar temporarily or were working there at the time of their marriage, two months later, by the night of the 1841 census on 6 June, they had returned to Essex and were living at 3 Curtises Row in Ripple Side. At that time, Ripple Side was a collection of isolated farms and cottages stretching along the Ripple road into Barking. The area south to the Thames was "mostly dreary marsh, crossed and intersected with straight dykes and sluggish pools" (according to an account of 1883), and was mainly used for grazing cattle.
Like most of the agricultural 'cottages', Curtises Row was a row of wooden hovels. As well as Thomas and his bride, the house was shared with Thomas' mother-in-law, Sarah Sissey, and three of his wife's siblings: Mary (aged 11), William (aged 7) and Eliza (aged 2). Thomas' father-in-law, Christopher, had recently been admitted to Edmonton Workhouse. Thomas and Maria were working as agricultural labourers, and it was a bleak and harsh existence with insufficient money to feed and clothe the family. The map below shows Ripple Side on the edge of the Barking levels, as well as Barking town and West Ham.

Married life
Over the next few years, Maria gave birth to four children. Maria Elizabeth (circa 1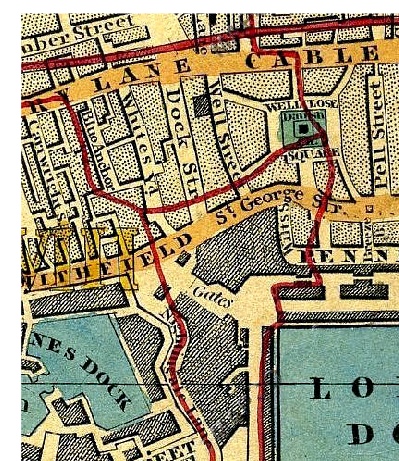 842), Thomas William (circa 1844), Eliza (about 1845) and Sarah (about 1847). All of the children survived infancy, surprising given that, in 1847, Sarah Sissey (Maria's mother) died of marasmus, a medical term for malnutrition and slow starvation. It suggests a family who were one step away from destitution. Soon after Sarah's death, Thomas moved his family westwards to the east end of London, looking for an escape from the harsh conditions and back-breaking work of labouring in the fields. They moved to Well Street in Stepney just off of Cable Street and a short walks from the Docks. It was a poor, rough neighbourhood with many families surviving on less than 25s a week.
Thomas worked initially as a brewer's dreyman. When this worked ceased, he turned to coal heaving, probably unloading the coal barges in the nearby docks. It was dirty, back-breaking work, the pay was poor and the work sporadic. During this time, Maria gave birth to a daughter who was named Mary Ann (circa 1851), followed by Ann (June 1855); Thomas's daughter, Sarah, died around this time.
A few years later, Thomas and Maria moved a few miles north east to West Ham where Thomas continued to work as a coal heaver. His brother, Joseph, who had also moved his family from Barking to West Ham was earning his living in the same way and the two Gregory brothers almost certainly worked side by side. This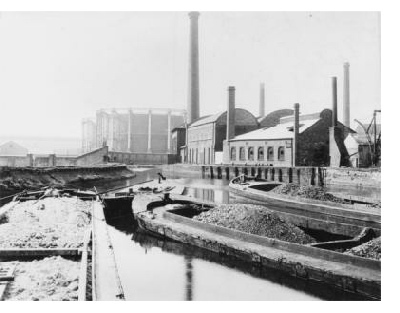 area was teaming with industry and barges laded with coal, which had to be unloaded by manpower, were essential for supplying the necessary fuel (the photograph below from 1902 shows a coal barge on the Channelsea river). A side effect of this industry was that the backwaters of Stratford were polluted with domestic and industrial sewage and houses that backed on to the river were flooded regularly. New Street, where Thomas and his family were living in 1859 ran off of the Channelsea river and would have been badly affected. The photograph below shows Wilton Street in West Ham in about 1890; the ditch that ran along the end of the row of houses was a open sewer into which the privies emptied. These conditions, coupled with Thomas' meagre income took their toll; Maria's health failed and she wasted away, probably the result of pulmonary tuberculosis. In their house on New Street, which they shared with Joseph Gregory and his family, Maria had no chance of survival. The care of Joseph's wife, Elizabeth, could do little to relieve her suffering and she died on 17 March 1859. She was just 42 years old.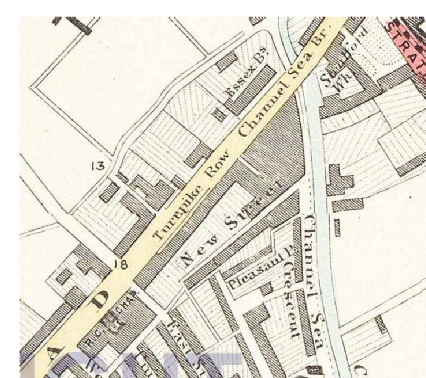 Final years
After Maria's death, Thomas and his children moved to the newly-built Langthorne Street, where they shared the house with three other families, making a total of 19 adults and children in what may have been a four-room house. The only adult male who was not a labourer was Thomas's son, Thomas, who was a bargeman. It was no doubt Thomas who introduced his sister, Eliza, to William Moss who lived nearby.
Eliza Gregory and William were married in 1864, joining the story of the Gregory's to that of the Moss family. For Eliza it was a step up from the precarious existence that she had known during the first twenty or so years of her life. Seven years later, in 1871, Thomas Gregory and his youngest daughter, Ann, were living with Eliza and William Moss at 7 Ammiel Terrace in Bromley-by-Bow.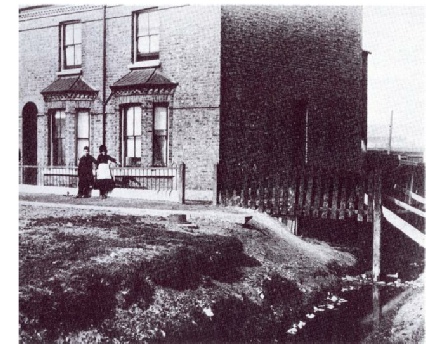 Although Thomas was working as a labourer and Ann as a servant, this arrangement suggests that Thomas was unable to manage financially on his own and no doubt relied on William's more steady income.
Although it is not conclusive, there is strong evidence to suggest that Thomas Gregory died on 10 September 1878 in Stepney Sick Asylum of liver disease.