Early years
When George Bostock died on 11 December 1853, his widow, Ester Steward was 33 years old with six young children. By March 1857 she was living with Thomas Hockerday. Thomas has proved to be an elusive character. The 1851 census gives his age as 39, indicating a date of birth of about 181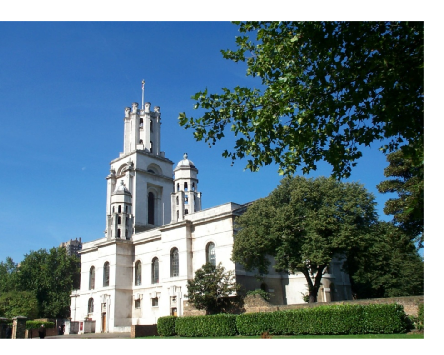 2; it also shows his place of birth as 'not known'. His marriage certificates state 'not known' in the space for 'father's name and occupation', which would suggest that he was illegitimate and had been orphaned, or abandoned by his mother, at a young age. Before the welfare state, the story of the expectant, unmarried mother seeking admission to the workhouse, or the baby abandoned on the steps of the rectory or workhouse, was a familiar theme in literature and paintings during the eighteenth and nineteenth century. At the time that Thomas was born, there were only a handful of Hockadays living in London, with the majority living in the west country, notably Devon and Cornwall; if Thomas was born in London, his ancestors were almost certainly from the South West of the country.
Married life
The first evidence of Thomas Hockaday is from 16 January 1840 when he married Anne Maria Sutton at the Church of St George in the East, the striking baroque church with its 'pepper-pot' tower designed by Hawksmoor. Anne was working as a servant and living in Philip Street and her father, James, was a soldier. Thomas was a cabinet maker and living in nearby Martha Street. He declared his father to be 'John Hockerday' and a 'mariner'.

Given later evidence, this marriage entry raises the question of whether there was another Thomas Hockerday of a similar age, also a cabinetmaker, living in the vicinity. At a time when families were large, lived nearby and often followed similar trades, it is not uncommon to find two people who are almost identical on paper. However, there is almost irrefutable evidence that the Thomas Hockerday who married Anne Maria Sutton was the same person who, when he later remarried, declared his father's name and place of birth as 'unknown'. From this, we must assume that Thomas was loathe to reveal to his future wife the origins of his birth; what better way than to invent a mariner as a father — in the days before telephones and electronic communication, it would have been an easy deception.
Nine months later, Thomas and Anne had moved to Mile End, where their daughter, Rosina, was born on 29 September 1840 at 53 Church Street. F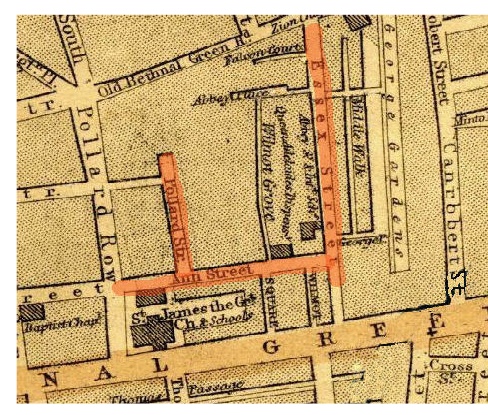 rom here, they moved a mile or so to Shoreditch, where they were recorded at Essex Street in the 1841 census. The following year, the family moved to nearby Pollard Street. It was here that their daughter, Mary Sophia, was born on 13 May 1842. The next year, the family were a street away in Ann Street. This map from the 1860s show Pollard, Ann and Essex Street.
This time, they settled and over the next few years, Ann Maria gave birth to three more children at Pollard Street: Susan (1844), Thomas James (26 August 1845), and Joseph Henry (5 October 1847). Thomas and Joseph were baptised at the Church of St James the Great. The church was literally in the family's backyard, and, as it had been consecrated only in June 1844, the family had witnessed its building. The photograph below shows nearby Pollard Row at the junction of South and Ann Streets (now called Florida Street) in the 1930s. The district was very poor and contained "very few good houses ... the great majority of the houses are the abodes of those a little above the poor ... a very considerable proportion of the inhabitants are weavers".
In the winter of 1847, the infant Joseph Henry became ill and Ann and her children, and perhaps Thomas, moved to Southwark, where it is likely that Anne Maria had family. But it was to no avail. Joseph Henry died shortly after their arrival. Another reason for the move may have been Anne Maria's health. In about the Summer of 1847, her health had started to decline and it would not have taken her long to realise she had consumption. Although referred to as tuberculosis, 'consumption' was a fitting name; the disease consumed the body, resulting in a slow decline, emaciation, and debility, attended with coughing and fever. Ann Maria died on 13 October 1848 at 3 Windmill Street, Waterloo. She was buried at the Church of St John the Evangelist, although not until 25 October. In the days before mortuaries, when most people died at home, corpses were kept at home until burial; whilst many people, particularly the poor, belonged to burial clubs, those that did not had to keep the corpse until they could find the money to pay for the burial, or family or friends took pity on them.
A short lived affair
If Thomas had accompanied his wife to Southwark, although there is nothing to indicate that he did, after her death he returned to the more familiar turf of Shoreditch where, in 1851, he was living at 30 Cottage Gardens. Living with him was a willow weaver by the name of Elizabeth Pratt. She was a widow with three children (Emma, Richard and John) from her previous marriage to Richard Durham who had also been a willow weaver. Two years later, Thomas and Elizabeth moved to Beckford Row. A description of the street in a sanitation report of 1848, and the engraving below titled, 'The state of the water supply', paints a grim picture:
"A narrow confined row of 16 houses with small plots in front. They consist of 2 rooms, one above the other, each room being generally occupied by a separate family. The place is abominably filthy; the drains from the houses into a kind of central gutter, are choked up. The privies are full, exposed, and overflowing, and the soil covers the front plots, in which heaps of filth are accumulated. 3s 6d and 3s a week are paid for these miserable habitations. The reservoir to contain the supply which takes place for two hours three times a-week, is a small barrel 21 inches in diameter, and 12 deep."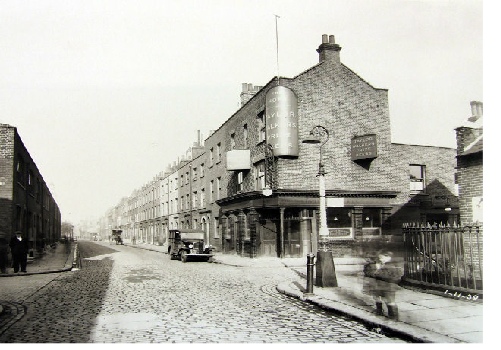 Thomas and Elizabeth do not appear to have had any children, but on 20 November 1853, after a few years living together, they married at the Church of St James the Great in Bethnal Green. Elizabeth's daughter, Emma Durham, married the same day. Like Thomas' first wife, Anne Maria, Elizabeth contracted tuberculosis; after suffering for two years, she and Thomas were aware that the end was near. Perhaps by marrying Thomas, she hoped to provide some security for her children. Whatever her reasons, less than seven weeks after her marriage, on 7 January 1854, she was dead. She was buried in the churchyard of St John the Baptist in Hoxton on 15 January 1854. She was just 42 years old.
Third time unlucky
A few months after Elizabeth's death, Thomas married for a third time. The marriage register of the Church of St John records that Thomas Hockerday, a widower and a carpenter, married Elizabeth Poole, also a widow. Bride and groom gave their address as Morning Lane, where Elizabeth had lived since 1843.
Unfortunately, the marriage was not to last long, and by the Spring of 1857 Thomas had begun a relationship with Esther Bostock (née Steward) who had been widowed in 1853). Esther gave birth to a daughter on 6 January 1858, whom the couple named Emily Adelaide. Esther herself was recorded as 'Esther Hockerday' on the birth certificate, although there is no evidence that she and Thomas married. With Elizabeth still alive and divorce still prohibitively expensive, it would have been impossible, not to mention illegal. At the time of Emily's birth, Thomas and Esther were living at 5 York Street, Shoreditch. Two years later, the family moved to 139 Holywell Street, and it was here that a son, Thomas Henry, was born on 28 February 1860. He was baptised at the nearby church of St Leonard.
By 1865, Thomas and his family had moved to 15 New Inn Yard. Despite its name, it is a long street connecting two main thoroughfares: Shoreditch Road to the east, and Curtain Road to the west. In 1865, the street was much like the other streets and alleys that ran off the main thoroughfare: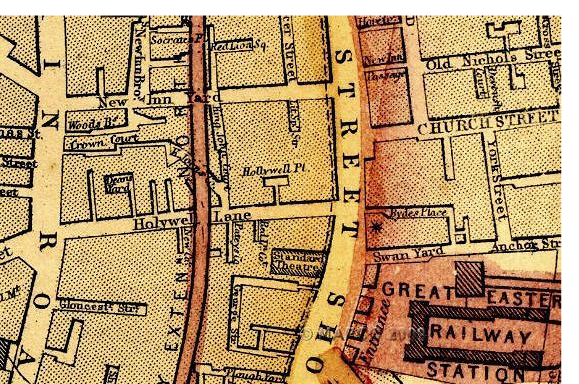 unsanitary and filthy with rubbish and waste, and generally comprised various three-storey eighteenth century buildings which had been adapted over the years. Unbeknown to the residents, underneath the filth lay the remains of the twelth century Augustinian Priory of Holywell and The Theatre, the first Elizabethan playhouse in London, built by Richard Burbage in 1576; it lay undiscovered until August 2008. It was here that Thomas died on 26 February 1865 of sudden chronic bronchitis. Such was its suddenness that a coroner's inquest was held on 1 March.