Early years
Samuel Collins was born in the Spring of 1807 in Wavendon in Buckinghamshire. A few weeks after Easter on Sunday 12 April, his parents, Joseph and Honour, carried him to the parish church of St Mary where he was baptised. He was born into and grew up in a rural community and, like most children from labouring families, he worked from a young age, running errands, clearing stones, chasing birds from crops and helping at harvest time.
The period from 1750-1850 saw great changes in the population and in rural life. During these hundred years, the population of Britain doubled and advancements in agricultural methods and practices resulted in fewer people producing greater amounts of food. The Enclosures Act, which saw open fields and common land enclosed, removed previously existing rights of local people to carry out activities in these areas, such as cultivation, cutting hay, grazing animals and collecting small timber, fish, and turf. The combined effects saw people begin to migrate to the towns and cities; by the 1820s Samuel was amongst them.
The move south
London was only fifty miles from Wavendon but Samuel had most likely never travelled such a distance. Whilst there had been great improvements in the roads in the previous century, road travel was still slow and greatly influenced by the weather. Taking advantage of the first spell of dry Spring weather, Samuel headed south, walking the mile or so to Woburn from where Watling Street, the old Roman road,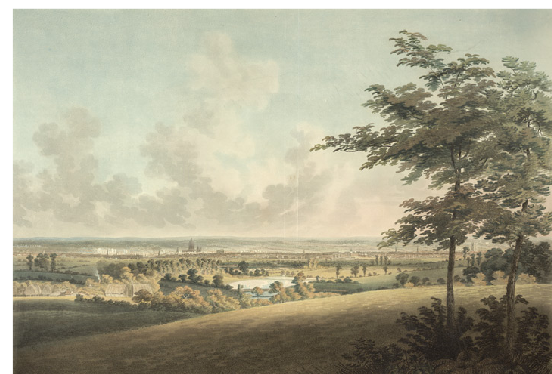 travelled in a near-perfect straight line almost as far as St Albans, and from there to Middlesex, passing close to Hampstead Heath. Perhaps he had saved enough to take an outside seat on a mail coach, and was in London by evening, but it is more likely he journeyed by cart, joining one of the regular mule trains: in which case, the journey would have taken him the best part of a few days.
Whichever route he took, he must have felt a sense of relief and exhilaration when he caught sight of his first glimpse of London spreading out before him from the heights of Highgate and Hampstead, the dome of St Paul's visible on the horizon (it can be seen in this painting of about 1800, a third of the way from the left).
Highgate
With its elevated situation, bracing air and fine views across London, Highgate had been a popular location with the rich and sometimes the famous since the sixteenth century; when Samuel arrived, the poet, Samuel Taylor Coleridge, had been living there since 1817 and was known as 'the sage of Highgate'. Originally centred around the High Street, by 1800 Highgate had taken on a straggling appearance, stretching from the Archway (or gate house from whence High-gate took its name) to the village and adjoining ponds, up to North Hill. But although Highgate was praised in 1849 for its air, scenery, well lit streets, and water supply mainly from wells, it had pockets of urban squalor. Lack of water was considered a deterrent to builders in 1819 and the poor had to rely on the polluted ponds on the green; a report of 1848 also revealed overcrowding and unsanitary conditions. But on the whole, it was an affluent and genteel village, and looking down on the urban sprawl of London, it was no one wonder that Samuel decided to venture no further.
Apart from the obvious attractions of Highgate, there are two other reasons why Samuel chose to settle here. Thomas Collins, born in Wavendon in about 1799, had been living in Highgate since at least 1829. He was certainly related to Samuel and may have been a brother, cousin, or uncle. If Samuel did not travel to London with Thomas, he most likely decided to settle in Highgate because of him.
Another reason for the Collins' families choosing to live in Highgate was that it and neighbouring Finchley were home to a number of non-conformist societies and chapels. By 1810 there were Methodist meeting-houses at both Whetstone and Finchley, and three years later, one of the Methodist chapels was described as 'very well attended'. Indeed, Thomas Collins' daughter Ann was baptised at St John's Chapel, the Methodist Chapel in nearby Whetstone, in 1841. Highgate and Wavendon's strong links to religious non-conformity, point strongly to some of the Collins family being non-conformists, even if Samuel himself did not carry on this tradition.
Married life
Sometime after moving to Highgate, Samuel met Mary Ann Harris, a local girl about five years his senior. In 1830, the Church of St Michael in Highgate had not yet been built, so on Sunday 12 December 1830, Samuel and Mary made their way to the parish church of St Pancras, three miles away, shown below in an illustration of 1822. It was worth the journey: St Pancras is one of the most beautiful churches in London, a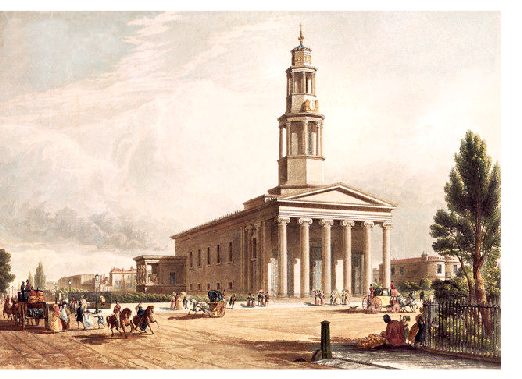 nd, after St Paul's Cathedral, the most expensive ever to be built. By this time, Samuel may have become accustomed to the sights of London but he must have been struck by the impressive façade and, if he'd had the slightest notion of ancient Greece, would have thought he was entering an ancient Greek temple rather than a recently built Protestant Church on a busy London thoroughfare. As for Mary, at the age of 28, perhaps she was oblivious to the four stone caryatids supporting the north portico, intent only on entering a church for her own wedding rather than that of someone else. The marriage register shows that Samuel 'made his mark'; Mary Ann signed her name.
A child, probably their first, was born around September 1834 and named Joseph after Samuel's father. Fortunately for Samuel and Mary, a parish church — the Church of St Michael, which stands higher than any other church in L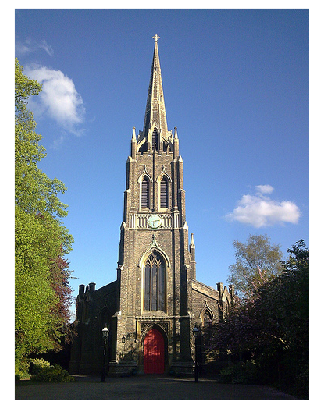 ondon (pictured in the photograph below and in the illustration from about this time) — had been consecrated on 8 November 1832. So the walk to church on 12 October 1834 to have their son baptised was a short one, less than a mile down North Hill to Highgate village. The church would have been a startling sight, being an early example of the neo-Gothic style, by an architect said to be 'far in advance of his contemporaries at a period when Gothic was but little known'. The map above shows North Hill running north-south with the churched marked at the bottom with an 'x'.
A growing family
A few years after Joseph's baptism, a daughter, Emma was born on 27 August 1837, followed by William on 13 October 1839. Like their brother, they were baptised at the Church of St Michael. Only a month after William's birth, the two-year old Emma developed a sore throat and fever. Within a few days she was diagnosed with scarlet fever. Nowadays the disease is uncommon but easily treated with antibiotics; in the nineteenth century it caused devastating pandemics and resulted in high mortality. Samuel and Mary Ann probably removed their other children from the house, and perhaps even Mary Ann, nursing her month-old son, left Emma to another's care. In an age before antibiotics, the infant Emma was dead by 22 November.
Her death might be considered a point of little interest at a time when the infant mortality rate was one in four; what is interesting is her burial. Because of the fear of contagion, she was buried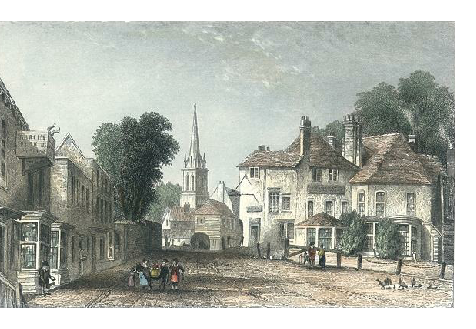 immediately - the day after her death - at the newly-created Cemetery of St James in Swaine's Lane: today it is better known as Highgate Cemetery. One of a number of privately owned cemeteries designed to alleviate the severe overcrowding in London's ancient churchyards and burial grounds, Highgate Cemetery soon became the most fashionable place to be buried and is the last resting place of Karl Marx, George Eliot, and Michael Faraday, amongst others. With the cost of burials starting at £2 10s — more than two weeks' wages for a labourer — one wonders how Samuel and Mary Ann afforded such luxury. Perhaps Samuel belonged to a Burial Club, a type of insurance scheme aimed at ensuring that a family could afford to bury its dead. Such clubs were popular in the nineteenth century for, as the journalist John Hollingshead wrote in his book Ragged London in 1861, 'there is nothing the poor have such a horror of as a pauper's funeral'. Samuel and Mary may also have been helped by the parish or their family.
When she returned home, Mary Ann boiled, if not burnt, the bed linen and scrubbed the house from floor to ceiling, such was the fear of infection spreading. At this time, Samuel and his family may have been living at Wards Cottages on North Hill. They were certainly living there by 1843 and had been living on North Hill at least since 1841. Wards Cottages was a group of sixteen cottages situated about half-way up North Hill; they survived until 1932 when they were condemned and replaced with a development of apartments.
Samuel and Mary Ann continued to live at Wards Cottages for another decade or so, and it was here that two more children were born: Samuel on Christmas Eve 1843, and Ann on 5 November 1847. They were baptised within a few weeks of their birth at the Church of St Michael. It was during this period that Samuel ceased working as a labourer and took up employment as a fishmonger. It must have provided a better income for the family and certainly been easier on Samuel.
Nevertheless, by 1853 Mary Ann's health started to fail and she died a few days before Christmas on
22 December 1853. The cause of death was given as dropsy, an out-dated term for oedema, which causes the body to swell due to excess fluid; it is usually caused by congestive heart failure. With Mary's body lying-in at home, it made a grim Christmas for Samuel and his family. Samuel notified the Registrar on Boxing Day and buried his wife on 29 December 1853 at the Church of St Mary, Hornsey (illustrated on the right). This was about a mile and a half from Wards Cottages since the Church of St Michael in Highgate did not have a burial ground, and Highgate Cemetery had become far too fashionable and expensive for a working man to afford.
A second chance
Samuel did not stay a widower for long. Three months after Mary Ann's death, on 3 April 1854, he married Charlotte March (née Rawlinson) at the Church of St Michael. Charlotte was a 43-year old widow who had been born in Weeley in Essex. A few years before her marriage to Samuel, she had been working as a servant for a draper and his family living at Melton House on North Hill. This was just a few houses along from Samuel and Mary Ann, so she would have been acquainted with the Collins family. At the time of her marriage to Samuel, she gave her occupation as 'servant' so it is likely that she was working for the same family.
In many regards, twenty-first century sensibilities are far more robust than they were in the nineteenth century, perhaps with one exception: the speed at which people remarried. In the nineteenth century, life for working class people was difficult. There were limited occupations open to women and few could earn enough to live independently; as well as a degree of financial security, marriage offered respectability and a place in society. Equally, men worked long hours, six days a week; before the advent of supermarkets, refrigerators and other labour saving devices, a man needed someone to care for the home, put food on the table, and do the laundry, a major feat in itself; if they had children from a previous marriage, they also needed a wife to care for them. With two children aged six and ten, Samuel was no exception. Remarrying was a necessity.
Seven years after their marriage in 1861, Samuel and Charlotte were living in Highgate, and had taken in a lodger to help with the rent. Samuel was working as a fishmonger. Shortly before Christmas in 1865 Samuel died of chronic bronchitis. He was buried on 23 December 1865 at the Church of St Mary's in Hornsey like his first wife, Mary Ann.
Postscript
Twice widowed and two days before Christmas, it was a bleak time for Charlotte. Nevertheless, she continued to live at Wards Cottages, earning her living as a charwoman (that is, a house cleaner). Living with her was her seventeen-year old grandson, William March, and a local family; like Charlotte, the wife was a charwoman. Ten years later, Charlotte had moved to Parish House, Southwood Lane, just a few roads east of North Hill. She shared the house with two widows in their seventies, one of whom had her eight-year old granddaughter living with her, and another widow, Mary Langmead, who, like Charlotte, was in her sixties. This communal arrangement suited Charlotte; in 1891, she was still living at Southwood Lane and sharing the house with Mary Langmead and another widow. Such an arrangement not only helped Charlotte financially, it also provided support and companionship and was an alternative to marriage. Charlotte died in 1895 at the age of 84, having outlived two husbands by a considerable number of years.