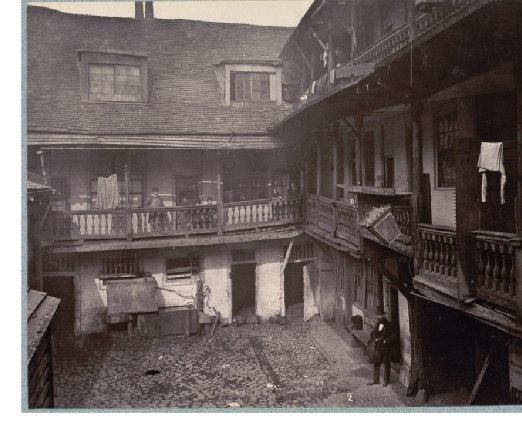 William Peters was born in about 1822, the son of a bricklayer called William Peters.
In 1853, William was living at 8 Thomas Street in Shoreditch, just off the busy Curtain Road (marked on the map below). He was working as an ostler — a stableman working at an inn. In the early nineteenth century, there were twenty-five coaching inns in the City alone, and many more in London. These inns were the termini for most travellers before the advent of the railways. They stabled fresh horses for passenger and mail coaches, provided a place to eat and sleep, and hired post chaises and other vehicles for people to finish their journeys. Mrs Moutain of the Saracen's Head at Snow Hill near Holborn was said to have kept two thousand horses in her stables. The photograph on the right shows the Oxford Arms, a seventeenth century galleried inn in Warwick Lane in the City, photographed before it was pulled down in 1876.
It was probably while he was working at the inn that he met Anne Wilborne; in 1853, she was thirty years old and working as a servant. They married at the Church of St Leonard in Shoreditch on 23 October 1853.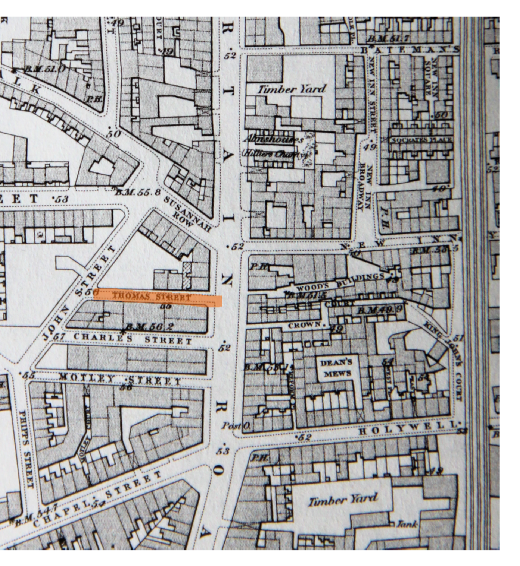 Their son, Joseph Wilbourne Peters was born in Ware in Hertfordshire in about 1853. The 1851 census shows a George and Elizabeth Wilbourne living in Hertford in Hertfordshire. George was born in Ware in about 1824 and was working as a victualler. It may be mere coincidence, but it could indicate that Ann returned to her place of birth to have her son. Nothing else is known about William or Ann other than that William died sometime between 1853 and 1873.