Hinxworth
When Joseph Collins was born in the late 1770s, Britain's population was around eight million, King George III was on the throne, and America was still a British colony, albeit one fighting for its independence. The agricultural 'revolution' was picking up pace and the first cotton mill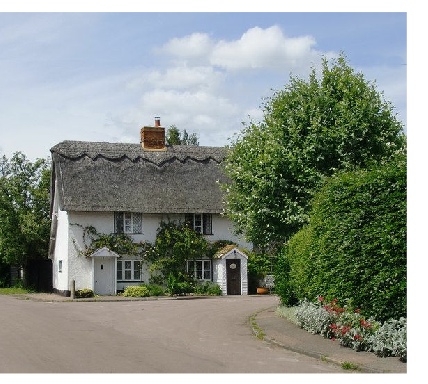 had been in operation for a few years, but England's wealth was still generated from the land.
Joseph may have been born near Hinxworth, where he was living in 1798. Hinxworth is situated in the north of Hertfordshire on the borders of Cambridgeshire and Bedfordshire. Its south-west boundary is formed by the old Roman road of Stane Street and Roman remain surface from time to time. At the beginning of the eighteenth century, the village consisted of 35 houses, most of them thatched (the photograph on the left shows Corner House in Hinxworth) of which three were almshouses. By 1841 the village had not grown substantially and still had a population of only 333.
The surrounding countryside is flat and the chief source of employment until the nineteenth century was agriculture, with wheat and barley for the brewing industry being the most important crops. Joseph, and probably his family, like most of the residents of Hixworth worked as agricultural labourers.
Hinxworth's parish church of S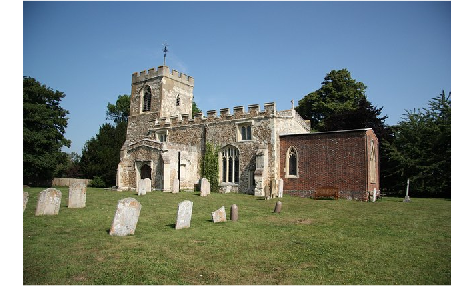 t Nicholas (pictured right) dates to the fourteenth century, and it was here that Joseph married Honour Griffin on 3 June 1798. Honour was the daughter of Joseph and Sarah Griffin and had been baptised on Christmas day 1778 in the same church. She had probably spent her life in Hinxworth, rarely venturing more than a few miles from its boundaries, so when she and Joseph moved to Wavendon shortly after their marriage, it must have felt like a significant move.
Wavendon
Wavendon is eighteen miles from Hinxworth over the Buckinghamshire border, and would have been a good day's walk, or a few hours by horse and cart for Joseph and Honour. In 1801, it had a population of around 630 people and consisted of a village, a manor house, and a few farms. The countryside around it was open fields and the chief source of employment was arable farming. Fuller's earth had also been excavated near Wavendon, although by 1813 only one pit was worked occasionally as sales had greatly diminished. Many women and children were also employed in making bone lace and in platting straw.
Another characteristic of the area in the seventeenth and eighteenth centuries was the predominance of the Society of Friends, or Quakers. The Quakers had a meeting-house and a burial ground in nearby Woburn Sands (then called Hogsty End), and a meeting house was built in Wavendon in around 1814. There is no evidence to suggest that Joseph and Honour were Quakers, but 'grace' names such as Grace, Mercy, and Chastity were popular with Quakers and the name 'Honour' suggests at least some ties within the family.
In Wavendon, Joseph and Honour settled down to married life,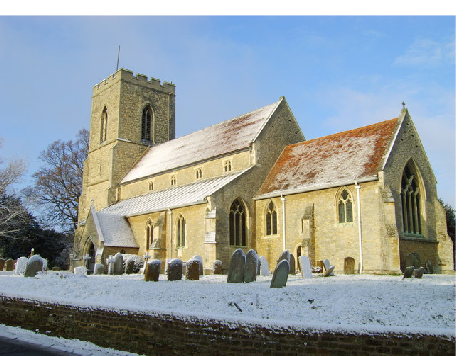 here Honour bore at least three children. John was baptised on 20 October 1799 at the Church of St Mary (pictured left); six weeks later in January 1800 Joseph and Honour returned to the church to bury him. Another son, Samuel, was born in March 1807. There were probably more children, including Thomas, born around 1800, and Joseph (born around 1812), as well as others who did not survive to adulthood.
Nothing further is known about Joseph Collins or Honour Griffin although it is likely that Joseph continued working as an agricultural labourer and that he and Honour remained in Wavendon until their deaths, sometime before 1841, by which time, at least two of their children had moved to London.