Early years
The son of Robert and Elizabeth Cawte, William was born on 30 September 1798 in Southwark, not far from the Church of St Saviour where he was baptised on 28 October 1798. His father was a pin maker, but living in Southwark, the sights and sounds of the River Thames were part of William's daily life, and when it was time to learn a trade, he decided to become a lighterman. Unlike watermen, who transported passengers, lightermen transported cargo from ships to wharves and docks. Nelson's victory at the Battle of Trafalgar in 1805, and Britain's subsequent victory in the wars against Napoleon, had secured her dominance of the seas and Britian's empire and trade routes were expanding rapidly; it was a good choice of profession. Lighters (the flat-bottomed barges used to transport goods) had no sail and was steered by very long oars and moved about by the force of the tide. Because of this, it was essential for lighterman to serve an apprenticeship to learn the tides and how to handle the lighter. William was bound as an apprentice on 24 October 1816 to a lighterman called William Chatley. After serving the customary seven year apprenticeship, he gained his freedom on 13 November 1823. Lightermen were proud of their status on the river and their knowledge and it must have been a proud day for William.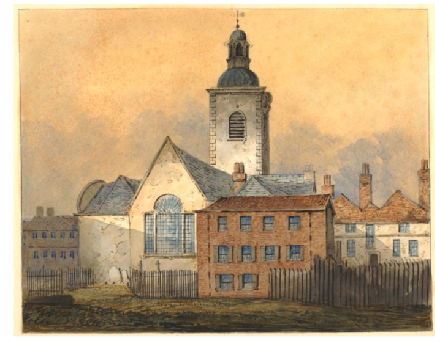 Married life
During his apprenticeship, William had met Rachel Elliott. However, under the terms of his apprenticeship, they had not been able to marry, but once William had gained his freedom, he and Rachel wasted no time and were married just over a month later on Christmas Day at the Church of St Mary Magdalene in Bermondsey (pictured on the right in 1810). William signed his name, and Rachel made her mark.
The following year, William and Rachel moved across the river to Plough Court just east of Chancery Lane and in the heart of the City. It was one of a number of courts off of Fetter Lane and had been named after Plough Inn on the south side of the street. Although lightermen tended to live very close to the river, perhaps business was brisker on the more densely populated north side of the river, and Plough Court was only a third of a mile or so from the banks of the Thames.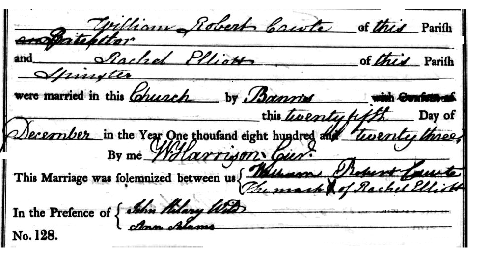 Their first child, named after her mother, was born on 21 February 1825 and baptised on 14 March at the Church of St Andrew in Holborn. In the baptism register the name 'Court' was crossed out and replaced with 'Cawte', so William must have provided the correct spelling.
Within two years, William and Rachel had moved back to Bermondsey, where their son, William James was born on 9 April 1827 and baptised at the Church of St Saviour. Over the next six years, the family remained on the south side of the river close to the Thames and from 1829 to 1831 were living at C
ornwall Place, just to the east of what is now Waterloo station. It was here that a son, James, was born in the Spring of 1829. He was baptised on 3 May 1829 at the newly built Church of St John the Evangelist, as was another son, Richard, on 20 February 1831.
A change of scenery
From Waterloo, the family moved to St George's Fields, a mile or so south, where Rachel gave birth to another son, Frederick John, on 14 July 1833. Three weeks later William and Rachel made another visit to the Church of St Saviour for his baptism.
Like many Londoners, William and Rachel lived in rented accommodation and moved frequently to find work and affordable housing. In September 1837 they were living at 8 Vauxhuall Square, Lambeth where another son, John Robert, was born. Before the construction of the Embankment, the whole of the south bank of the Thames was prone to flooding, and by the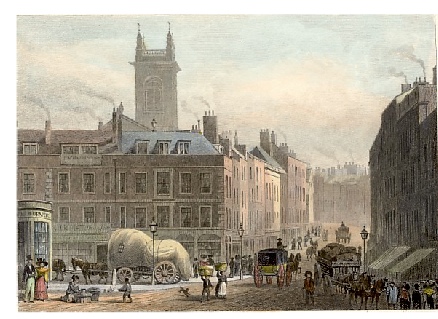 middle of the century, the water, which was drawn from the river, was little more than a weak solution of sewerage; during cholera outbreaks, death rates on the south bank were three or four times higher than those north of the river. It may have been one of the reasons that William and his family did not stay long in Lambeth long. They returned to Holborn some time after John's birth, as he was baptised on 20 May 1838 at the Church of St Andrew, where William and Rachel's first child had been baptised thirteen years earlier. The map above shows Plough Court and the Church of St Andrew, and the illustration on the right shows the church in about 1830 looking west from Snow Hill towards Farringdon Street. They had come full circle, returning to the familiar territory of Plough Court in Holborn.
It is not known whether they moved between Southwark and Holborn in the intervening years, but they were certainly living at Plough Court in Holborn in 1843 and in 1851. About this time, Rachel became unwell, developing what was later described as a 'disease of the uterus'. About six months later, her abdomen started to swell with excess fluid, and her shortness of breath meant it was difficult for her to move about. This lasted for about six months, until 16 December 1853 when she died at 22 Plough Court. Her daughter-in-law, Mary Ann Cawte, was with her at her death.
Single life
After his wife's death, William Robert returned to Southwark where he continued to work as a lighterman. By now, due his lifestyle and the polluted air of London, he was suffering from asthma. He died on 2 February 1861 at 26 Emerson Street, Southwark. Today, the houses are long-gone, making way for businesses and The Globe Theatre.
The map below shows the key locations associated with William Robert Cawte.