Early years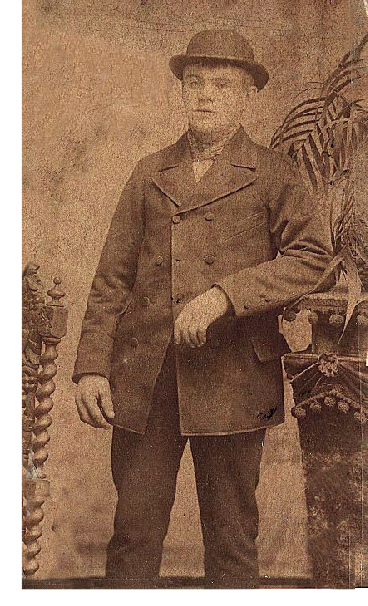 The fifth of seven children born to James George Bostock and Mary Ann Hockerday, Edwin Francis Bostock was born on 25 October 1878 at 11 Gibraltar Walk, Bethnal Green, and baptised a few weeks later at the Church of St James the Great. In temperament and looks he and his brother James were liked 'two peas in a pod': full of mischief and fun with twinkling blue eyes, in contrast to his other siblings Albert, George and Rosina who were more serious.
Edwin Francis' father and uncles were both cabinet makers and, after leaving school in about 1892, it was natural for him to take up his father's trade, learning his craft in what may have been a family-run business. Like many Londoners in those days, by the time he reached early adulthood, he had lived in a number of rented houses, although all of them were within a mile or so of one another and his world would have been a fairly limited one, confined, by and large, to a handful of well-known streets. As well as his family, his job as a cabinet maker tied him closely to Hackney, which was still the furniture-making centre of London. It was here that he was living in 1899.
The girl next door
10 Emma Street, Haggerston was one of hundreds of terraced houses that had sprung up in the last half of the nineteenth-century; they generally opened onto the street and had a small yard at the back. Emma Street faced the Imperial Gas works. A few doors down the street at number 18 lived the Peters family whose daughter Emily, was two years younger than Edwin.
Edwin Francis married Emily on 7 August 1899 at the Church of St Stephen in Goldsmith's Row, Haggerston; the marriage was witnessed by his father, James George, and his 80-year old grandmother, Esther. Soon after their marriage Edwin and Emily moved to 42 Castor Park Road, West Ham where, in 1901, they were renting two rooms. A few years after their m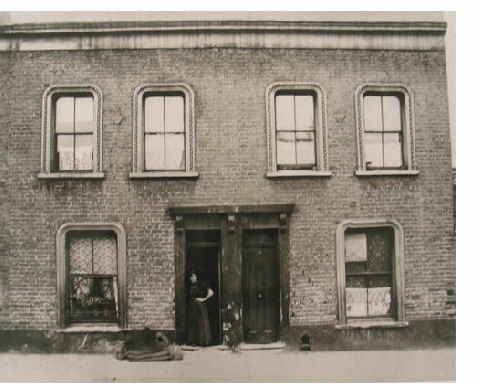 arriage, their first child, Edwin Francis Joseph, was born on 9 November 1903 in Walthamstow. In the following years, their family grew steadily. James George was born on in July 1908 in Shoreditch, and May Alexandra followed on 2 April 1911 whilst Edwin and Emily were living at 38 Stanley Road, Stratford. Two years later, George was born on 11 December 1913 at 11 Albert Terrace, Bromley-by-Bow.
Looking at the children's places of birth, it is clear that not only did Edwin Francis and Emily moved regularly, as was common, but that they moved a greater distance than many people, most of whom lived within a mile radius of their place of birth, or less in some cases. Edwin Francis' and Emily's next move was in 1914 to 12 Franklin Street in Bromley-by-Bow, a 'two-up, two-down' terraced house, its front door opening directly onto the street. The photograph on the right shows numbers 19 and 20 Franklin Street in 1899; number 12 would have looked the same, with its boot scraper built into the wall by the front door to remove the excess of London mud before entering the house.
Answering the call
A power struggle of shifting alliances had long been building amongst the old imperial powers of Europe, creating a tinder box that needed only a spark to ignite it. That spark came on 28 June 1914 in Sarajevo when Archduke Franz Ferdinand, heir to the Austro-Hungarian throne, was assassinated. It started a chain of events that culminated in Great Britain declaring war on Germany on 4 August 1914. By September, 255,000 men had joined u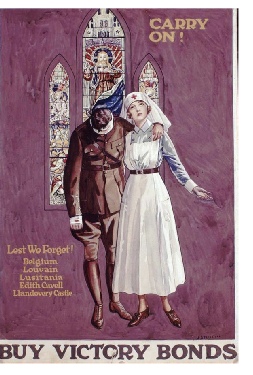 p, desperate not to miss out and buoyed up by the thought that 'it would all be over by Christmas'.
Although 36 years old with a wife and four young children, Edwin Francis enlisted. Did he feel it was his patriotic duty? Perhaps his friends had joined up, or he was spurred on by seeing one of the many recruiting marches? Or was he dazzled by the propaganda that promised adventure, or wanted to satisfy a wanderlust that his roaming in the East End of London could not cure. The reason may have been closer to home: in October 1915, word reached England of the execution of nurse Edith Cavell, the former ward sister at the Shoreditch Infirmary where Edwin's father, James George, had been a patient. Whatever his motives, on 14 December 1914 he went to the recruiting office at Stratford and enlisted. Men had a choice of the regiment they joined; some men chose a regiment simply because they liked its badge or its uniform, or because of its reputation. Edwin Francis joined the King's Royal Rifles Corp: perhaps he liked the thought of being Rifleman Bostock rather than plain Private Bostock; for a man who may have been looking for adventure, it sounded like something from a 'Boys Own' adventure story. Whatever the case, he drew himself up to his full 5 feet 3½ inches and was accepted; the minimum height requirement for joining the army was 5 foot 3 inches.
After accepting the King's Shilling, Edwin returned home to await his joining
instructions and travel warrant. This arrived, and two days later he was in Winchester where he joined his Battalion and was issued with his uniform and army kit. He spent the next few months training and was posted to France on 14 April 1915.
Edwin served on the Western Front in France as part of the British Expeditionary Force. It is not known exactly where he was posted or what action he saw, but while he was in France the second battle of Ypres raged. The town was strategically important as a gateway to the sea ports, and in the late Spring of 1915, the conflict, which lasted little over a month, saw 95,000 casualties, almost 60,000 of them British. The following year saw the German attack on Verdun with equally heavy casualties.
On 18 March 1916 whilst on duty Edwin Francis fell and injured his left ankle. It was clearly a bad fall because he was taken to No. 2 Canadian General Hospital at Le Treport, a few miles north of Dieppe, where he was diagnosed with a fractured tibia. Le Treport was an important medical centre during the War, and the Canadian hospital was one of two hospitals, although by the end of the war the number had increased. In 1916, the Canadian Hospital was a combination of huts and medical tents situated next to the British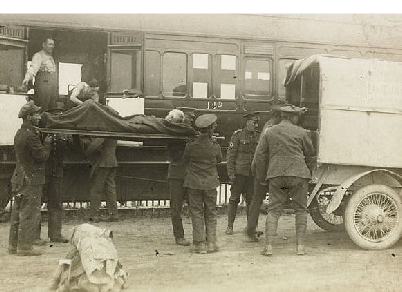 General Hospital which had take over the town's grand Trianon Hotel. Here, Edwin's leg was set in a splint before he was shipped home on 27 March. After a long, uncomfortable journey by ambulance, train and boat, he a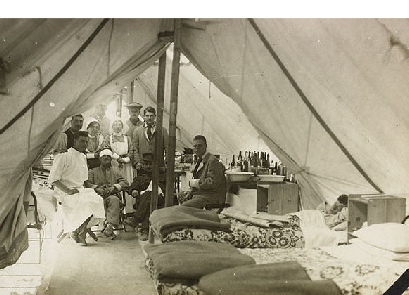 rrived in Blighty to find himself on the familiar turf of London, at the Military Hospital in Endell Street in Covent Garden. It was a stark contrast to the mud and horror of the trenches he had left behind.
Back in Blighty
One of the most remarkable hospitals of the war, the Endell Street Hospital had been established in a former Workhouse in 1916 under the control of Dr Flora Murray and Dr Louisa Garrett Anderson, the daughter of Elizab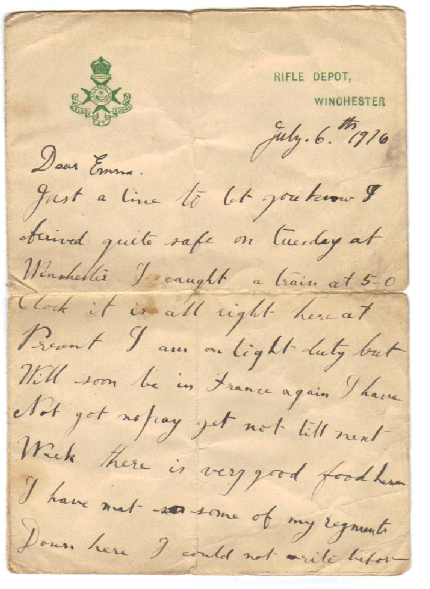 eth Garrett Anderson. Many of the women doctors who had volunteered were active suffragettes determined to prove that they were as capable as their male counterparts. It was the first hospital for men run entirely by women and its motto was 'Deeds not Words' — an appropriate mantra not only for its approach to healthcare but also for its campaign for universal suffrage. After initial scepticism, the hospital attracted great praise from the medical profession; Edwin must have counted himself lucky to receive such expert care.
Edwin was in hospital for almost three months, finally being discharged on 23 June 1916. He was given a ten-day furlough and returned home to Franklin Street. One wonders how he felt walking down the street of brick terraced houses: elation and a sense of home-coming at the familiar streets or disappointment at the mundanity of it all. Perhaps all he thought about was seeing Emma and his children; the last time he had waved them good-bye he must have wondered if he would ever see them again.
After spending time with his family, at 5 o'clock on the morning of Tuesday 4 July 1916, Edwin boarded a train and travelled to Winchester to rejoin his Battalion. Whilst he had been home recuperating, across the channel the Allies had started 'the Big Push', a large-scale offensive which, it was hoped would end the war. On the first day, 1 July, over 20,000 British troops were killed, and another 40,000 injured or captured. News would have reached Britain by the time Edwin bade Emily and his children farewell. Aware of the realities of war, and now "considered fit for light duty and likely to be fit for overseas service within three months", Edwin must have wondered if he would see them again. Even so, he wrote a cheerful letter to Emily on 6 July to let her know he had arrived safely, signing off 'this is my best love for you from your loving husband E Bostock', together with copious amounts of 'x' kisses. The first page of the letter is shown above; it read as follows:

Dear Emma
Just a line to let you know I arrived quite safe on Tuesday at Winchester I caught a train at 5 o'clock. It is all right here at present. I am on light duty but will soon be in France again. I have not got no pay yet, not till next week. There is very good food here. I have met some of my regiment down here. I could not rite before. Is all at present. Give my love to the children and this is my best love for you from your loving husband, E Bostock. xxxxxxxxx
Send me a line and let me know if you get this Emma. xxxxxxxx
Despite an expectation that he would be sent back to France, a couple of months later, on 22 September, Edwin Francis was posted to Sheerness, perhaps to the reservist Battalion of the King's Royal Rifle Corp which was stationed there as part of the home defence guar
ding Britain's ports and waterways. Perhaps his wound had not healed sufficiently, or Emma had written to him that she was expecting another child, although the biggest surprise was still in store. Edwin continued his duties in Sheerness, but it was not long before his injury flared up and on 27 October he was admitted to hospital with an ulcerated leg. Two weeks later, on 11 November, he was transferred to Lees Court. Given the terrible loss of life and the appauling conditions on the Western front, it was a blessing.
Lees Court (pictured on the right) is a grand country house and estate at Sheldwich near Faversham, deep in the Kent countryside. During the War it was used as a convalescent home mainly for Canadian soldiers. Edwin remained in these grand surroundings for a month and by the end of 1916 had spent about a quarter of the year in different hospitals. As a result of his injuries, he was declared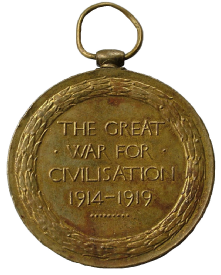 unfit for active service and on 20 January 1917 was transferred to the 29th Middlesex Regiment, a Works Battalion.
By now Emma had broken the news to him that she was expecting twins; almost nine months to the day since Edwin had returned to Winchester from his Summer furlough, while the war raged across the Channel, Emma waged her own private battle, giving birth to two healthy boys, Arthur Henry and William Albert, on 1 March 1917.
On 15 May 1917, Edwin was transferred to the 39th Company, a labour corps. It was with this Company, stationed for sometime in Shoreham by Sea that he saw out the war. Not long before Armistice Day, in September 1918, he went absent for two days, forfeiting two days' pay. He was finally demobbed at Crystal Palace in January 1919, although he continued to be a reserve on mobilisation. In 1920, like all soldiers who had served overseas during the war, he was awarded a Victory Medal (an example is shown on the left).
Peace time
After the war, Edwin tried to acclimatise and adjust to civilian life, but found it difficult to settle down to the quiet and patient industry of cabinet making after the horror of the trenches, the excitement of foreign shores, and the grandeur of country estates. His daughter, May, recalled that her father drank and was often abusive to his wife. Perhaps his old wounds pained him or, like many service men, he was suffering from post-traumatic shock disorder (PTSD), which manifests itself in many ways including flashbacks, a withdrawal from society, fits of anger, and violent behaviour. Such recollections paint a picture of a very different man to the mischievous young lad with the twinkly blue eyes, who had his wife's name tattooed on his arm, and had written to her so affectionately in 1916.
Drinking was a socially accepted part of working class culture and only frowned upon when it became excessive; what little social time people had was often passed in the local public house which was often warmer and more comfortable than a person's home; it also offered company and an few hours escape from the harsh realities of life, and as well as drinking, people gathered to talk, sing, dance and play pub games. As well as being socially acceptable, Edwin had a history of excessive drinking in the family: his sister, Esther, was a whisky drinker who died in 1931 aged 54, and his grandfather, George Bostock, had died at a young age of cirrhosis. Alcoholism can be hereditary and is certainly influenced by social behaviours and conditioning, so perhaps when life got too difficult for Edwin, his natural tendency was to drown his sorrows. In an age when the public house was a focal point for working-class neighbourhoods, for anyone with a weakness for alcohol, the temptations were great.
Sometime between 1935 and 1939, Edwin walked out on Emily and his children. He didn't go far; the 1939 Electoral Roll shows him living at Palace Road in Hackney and by 1945 he was at 1 Balcorne Street, just off Well Street, Hackney. In 1954, he had moved to number 7 and was living with his niece and her husband. Around Christmas 1961 he suffered a heart attack while out in Well Street and was taken to Bethnal Green Hospital where he died on New Year's Eve. Unlike his grandfather and his sister who had died relatively young of drink-related illnesses, Edwin had had a strong constitution, living to the age of 83.