Early years
A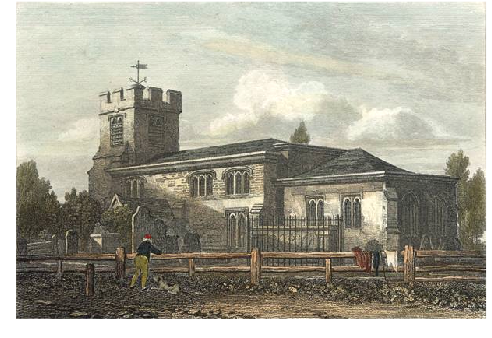 nn Elizabeth Shepherd was born on 16 November 1837 in Finchley, the daughter of William Shepherd and Sarah Hodge. Three weeks later, she was baptised at the Church of St Mary where six of her siblings had been baptised previously, the first one in 1816, about the time this watercolour was painted.
At the time Ann was born, Finchley was a patchwork of small settlements with a population of around 3,600, most of whom were either labourers, like her father, or servants. Ann's childhood and early adulthood were spent in a semi-rural environment on the edge of Finchley Common in a house on Red Lion Hill. The hill takes its name from an inn which stood at the corner of Red Lion Hill and Elmfield Road, originally known as The Rabbit and renamed the Red Lion in 1786. Before this, the area was known as Cuckolds Haven, probably after a family by the name of Cuckold; the name survived into the middle of the nineteenth century as 'Cockey Haven', and it was this name (shown as Cockens Haven) that appeared on the census return of 1851.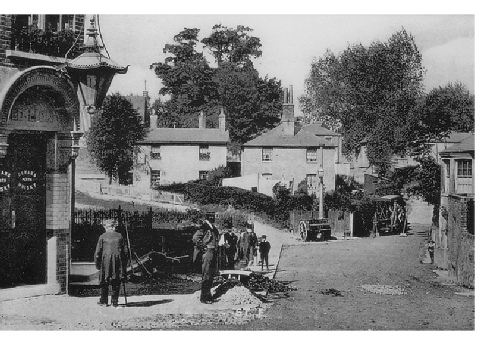 The photograph on the left shows Red Lion Hill, although about half a century after Ann had first known it.
Leaving home
By 1859, Ann had met Joseph Collins, a labourer, like her father, who had had been born in nearby Highgate. In the Spring of 1859 she discovered she was pregnant. On Monday 13 June, she and Joseph went to the Church of St James in Norlands where they were married, giving their addresses as 25 Princes Road West, Norlands (now called Princedale Road). It is not known how long they had been living at Norlands or whether they went there to escape the censure of Ann's parents and neighbours, but on 13 November 1859, Ann and Joseph were at Finchley where their first child, Annie Maria, was baptised at the Church of the Holy Trinity.
They probably returned to London soon after as, in the Spring of 1861, Ann and Joseph were living at 13 North Street in Marylebone where they rented one or two rooms. Ann was supplementing Joseph's income by making slips. In the census of that year, there is no mention of their daughter, so presumably she had died in infancy. The following year Ann and Joseph moved a few streets away to 43 Devonshire Street where they rented one or two rooms. It was here that Ann gave birth to another daughter, Annie, on 15 October 1862.
On the move
Between 1863 and 1865 Ann and her family moved to Childs Hill to the north west of the city. Childs Hill is situated on the north west side of Hampstead Heath; in 1865 it was surrounded by small fields and farms, and was closer to the environment in which Ann and Joseph had grown up in Highgate and Finchley.
Soon after moving to Childs Hill, Ann gave birth to a third daughter, Alice. Emily followed a couple of years later, until on 2 February 1870, a long-awaited son was born, named Henry Joseph. Ada followed in about 1874 and William in 1876. By the time of the 1881 census, the family had moved to 2 Park Row, Temple Fortune, about a mile north of Childs Hill and to the east of Hendon. Here, Ann gave birth to two more children: Louisa in 1880, and George in about 1882.
By 1891, Joseph and Ann, with their four youngest children, together with their elder daughter, Alice, had returned to Childs Hill where they lived at 4 Ebenezer Mews, a row of small houses not far from the High Street. On 15 September 1899, Joseph died of senile dementia, exhaustion and heart failure.
After her husband's death, Ann continued to live at Ebenezer Mews. She was supported by her children, some of whom lived with her until they married and left home; in 1911, her youngest child, George Frederick Collins, was living with her and working as a builder's merchants yardman. Probably soon after the census when George married, Ann moved to 1 Llanelly Road, Childs Hill. It was here that she died on 26 May 1925 of old age.