Early years
The youngest son of William and Rachel Cawte, John was born on 14 September 1837 in Southwark in southeast London, although spent most of his childhood in Holborn, north of the river in the heart of the City of London. He may have received some rudimentary schooling or learned to read and write at home; certainly his father could read and write, and on later documents John Robert was able to sign his name. After his mother's death in December 1853, he returned with his father and siblings to Southwark.
Until the early eighteenth century, the north part of Lambeth parish running parallel with the Thames was marshland crossed by a few roads raised against floods; it was not until the Thames Embankment was built in the 1850s that Southwark and Lambeth were given some protection against the flood tide and the raw sewage that it carried. The south of the area was dominated by woods and commons and a few villages such as Clapham and Streatham. From 1750, with the opening of Westminster Bridge, the character of Lambeth began to change and the area was transformed from rural suburb into a part of London itself. Like many towns in Britain, the coming of the railways also had a major impact, swelling the population and resulting in new roads and churches, as well as three-storey tenements packed with families, many occupying only one room.
Initially, industry in Lambeth was centred along the banks of the Thames and from the Elizabethan era had consisted chiefly of pottery, glass blowing and boat building. From the early nineteenth century, Lambeth became a hive of activity. There was a continuous line of docks and wharves and stairs for the watermen, mostly of wooden construction, all the way from Deptford in the east to Lambeth Palace in the west. It also became a centre for the printing trade, as well as candle and soap making, but John Robert took up his father's trade.
Learning a trade
John was bound on 10 September 1857 at Bankside as an apprentice lighterman to his father. Just a few days short of his twentieth birthday, he was a little old to be apprenticed; his eldest brother, William James, had been bound at sixteen and gained his freedom in 1850. Another brother, Frederick John was nearing the end of his apprenticeship having been bound in July 1851 to a George Gilbert. Presumably John had to wait his turn.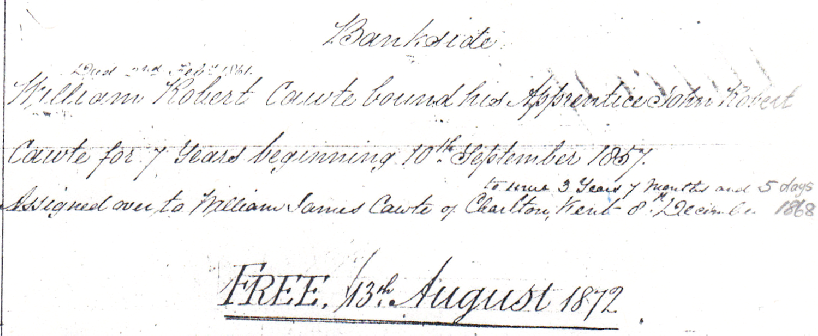 Unfortunately for John, his father died when he was half-way through his apprenticeship. Whilst it did not prevent him from working as a lighterman nor from marrying and raising a family, it did mean that he did not gain his freedom for another eleven years, affecting both his employment and his earnings potential. But on 8 December 1868, seven years after his father's death his apprenticeship was reassigned to his eldest brother, William James, and he finally gained his freedom on 13 August 1872 at the advanced age of 35. By this time, he already had five children.
Married life
H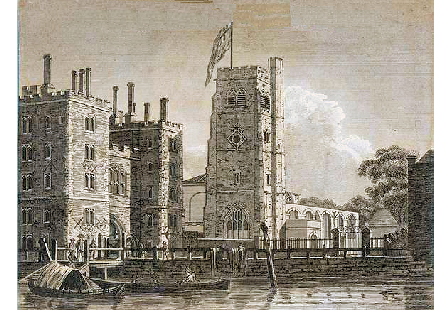 e had married Emma Reynolds on 2 August 1863 at the Church of St Mary in Lambeth, next to Lambeth Palace, passing the tomb of William Bligh, the infamous captain of HMS Bounty, as they walked through the churchyard. It was a perfect location for a lighterman, standing on the banks of the River Thames as this engraving of 1784 shows. At the time of their marriage, they gave their address as Oakley Street (now Baylis Road). The photograph on the right shows the streets around the Church of St Mary taken around the time of John and Emma's wedding.
A couple of years later John and Emma had moved to Pitts Place in Southwark. It was here that their first child, a daughter, was born on 5 June 1866. She was baptised Eliza Rachel at the Church of St Saviour on 2 September. By 1869, John and his family had moved to 32 Cornwall Place,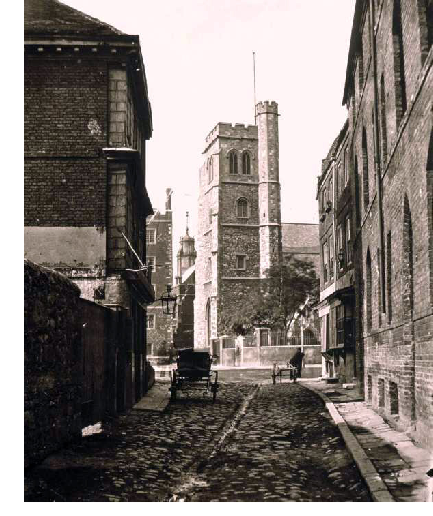 Waterloo. The street ran alongside the north side of the Church of St John, a few minutes walk from the river. When Charles Booth visited it in the 1890s he found:
"a flagged, fairly clean court; front gardens now cemented over: 'but they used to be fine some years ago'; used to be Irish but fewer of them now; windows and curtains fairly clean, doors open; fairly well furnished rooms to be seen inside; many old tenants, since 18-20 years; waterside labourers; the extreme west end is the poorest; at the back of the north side is a large wood yard with piles of wood stacked alongside of the chimneys, nearly over-lapping; there has never been a fire but it is hard to imagine anything that looks more danger. Rents 6/- for two rooms, no copper, kettle has to be boiled, washing done in a tub in front garden; WCs in front".
The presence of large numbers of Irish families labouring at the waterside indicates that it was a poor, working class neighbourhood but compared to many east end dwellings, it offered an acceptable standard of living and John and Emma lived there for the next twenty or so years. During this time, Emma bore another ten children. Sarah Ann (April 1869) and Rachel Mercy (September 1870) were baptised on 5 March 1871 at the Church of St John, Waterloo, literally on their door step. The photograph of the church is shown below - Cornwall Place ran to the left of the church (when facing it). The next baptism in the register is that of Elizabeth Matilda Reynolds who had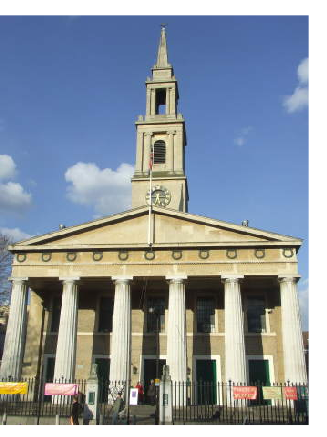 been born in 1859. She was the daughter of William Worcester and Mercy Reynolds, and therefore Emma Cawte's younger sister. It appears that the families took the opportunity of Rachel and Sarah's baptisms to catch up on the outstanding baptisms.
In the Summer of 1871 Rachel Mercy died, less than a year old. A year after her death, John Robert was born on 22 November 1872. He was baptised at the Church of St Andrew's, Holborn on 12 January 1873. The family gave their residence as Plough Court; whether they were living there permanently or visiting relatives is not known. Certainly by the time their next child, Charles William, was born in November 1874 they were back at 32 Cornwall Place.
A growing family
Another three children followed: William Arthur (December 1876), Florence Beatrice (30 June 1879), and Frederick Alfred (October 1883). Strangely, William was baptised twice at the Church of St John: firstly on 20 January 1879 and then again on 9 December 1883 with his brothers Charles and Frederick (in both instances the date of birth is given as 7 December 1876). Florence Beatrice was baptised on 13 February 1884 at the same time as her younger brother, Alfred James who had been born on 14 March 1881. In the time between the two baptism ceremonies, in the early months of 1884, John and Emma buried their son, Frederick Alfred; like his sister, Rachel, he had not reached his first birthday.
This arbitrary pattern of baptisms may have been a busy, struggling family's inability to keep track of which children they had baptised. It may also have been a sign of harsh reality: the high infant mortality rate in the mid-nineteenth century would have placed greater pressure on families to baptise sickly children before their healthier ones; it is interesting that two of the three children that John and Emma baptised soon after their birth were the ones who died in the first year of life. Baptisms also cost money, and John and Emma struggled to make ends meet at the best of times.
Around 1887, a final child, Edith was born. After that, John and Emma and their children (eight were recorded on the 1891 census) moved to 14 Ponton Road near Nine Elms in Battersea where they were living in four rooms. In 1891, a week or so before Christmas, Emma caught a cold which turned to pneumonia. She fought for ten days, before dying of exhaustion on 29 December. She was 43 years old and left a husband and eight children ranging in age from twenty five to four.
In 1901, John Robert and four of his children were still occupying four rooms at Ponton Road. Also living in the house was his daughter, Eliza, with her husband and two young children and a twenty-five year old nephew. Eliza's husband was a dockside labourer and the family occupied only two rooms, indicating the marked difference in income between labourers and skilled lightermen such as John.
John died in 1909.