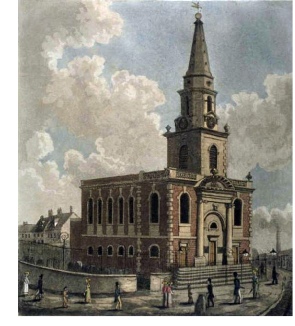 Early years
Eleanor was born on 21 June 1802, the eldest child of William and Eleanor Evans, and was baptised a few weeks later at the Church of St George the Martyr. The Church (shown in the illustration on the right and marked on the map of 1804) stands at the intersection of Borough High Street and Great Dover Street in Southwark in south London. In the three centuries before Eleanor's birth, the area was notable for two things: prisons and taverns.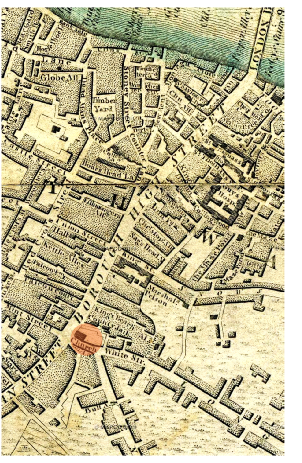 Five of London's eighteen prisons were located in Southwark, including the famous Marshalsea and Clink prisons, which were only a few streets from the Church. As famous as its prisons was its inns. Borough High Street was the main thoroughfare to London Bridges and, as such, was an entry point to London from Portsmouth in the south and Dover in the southeast. The High Street was characterised by its many coaching inns and taverns, many of which were ancient establishments such as The Tabard Inn (the meeting place of the pilgrims in Chaucer's Canterbury Tales) and the George and Dragon which was frequented by William Shakespeare and referred to in Dickens' novel, Little Dorritt.
At the time of Eleanor's birth, her father was described using the somewhat vague term of 'labourer', an occupation which encompassed a variety of jobs. In about 1803, her parents moved from Borough, a few miles east to Deptford. It was here that Eleanor and her five siblings grew up. In 1803, when the infant Eleanor and her family arrived in Deptford, it was a thriving area of trade and industry and, until she was in her early teens at least, Eleanor grew up amidst the bustle of the docks with the smell of fresh sawn timber and tar in the air. The map below shows four of the streets where Eleanor lived between 1804 and 1813.
T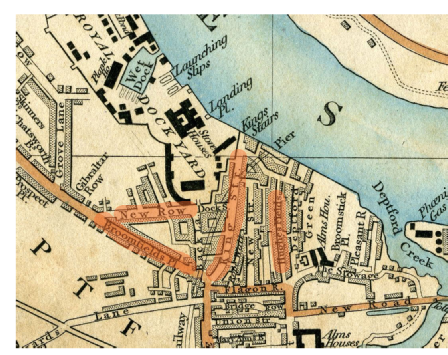 he next chapter
Little is know about Eleanor until the 1830s; in 1851, she described herself as a tailoress, but there is no evidence to suggest she followed this occupation earlier in life. By 1836, she had met a tailor called George Moss. Their son was born on 30 June 1837 whilst George and Eleanor were living above one of the shops that lined the Broadway, the bustling thoroughfare a little further south of river. However, the 1841 census (taken on 6 June) records two other children in the household: Eleanor Moss born in about 1831 and Emma Moss born around 1833. No baptism records have been found for Eleanor and Emma (under either the surname Moss or Evans). George may have been their father, but there is nothing to prove or disprove it.
Only a few months after his birth, in the Winter of 1837, the infant George died. Not long after his death, two events occurred: Eleanor discovered that she was pregnant, and George and Eleanor moved from Deptford to Stratford in Essex. Historical evidence doesn't show which event came first: perhaps the death of their son, George, was the impetus they had needed to move, or perhaps the discovery that she was pregnant prompted George and Eleanor to find a better place to raise their children. Whatever the order of events, Eleanor was living at New Street in Stratford when she gave birth to a second son on 23 November 1838. It took until 1868 for his name to be entered into the baptism register 'by sworn affidavit' of the Church of All Saints in West Ham.
It appears that George and Eleanor were rather lax with church formalities. It was not until 13 October 1839 that Eleanor and William finally decided to wed. Having waited so long, they made sure it was a family affair, returning to Deptford and the Church of St Paul to be married. Eleanor was thirty seven and had borne four children, but the marriage entry in the parish register (shown below) gives no clue as to why she and George had waited so long.

Hard Times
After their marriage, Eleanor and her family returned to Stratford, where Eleanor gave birth to at least three more children: Rosetta (May 1841), William (1843) and Eliza (1845). If the family had moved to Stratford in search of work and a better life, they were disappointed. The middle years of the nineteenth century were difficult ones for many trades and wages declined in real terms. In 1851, Eleanor described her occupation as a tailoress, indicating that she had taken up her needled to assist her husband to make ends meet.
The death of Eleanor's husband, G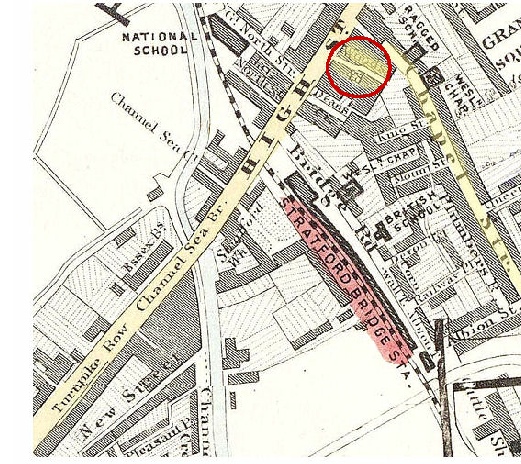 eorge, sometime between 1851 and 1861, and the loss of his income, left Eleanor, and her children who still remained at home (William and Eliza), in financial difficulty, but the family managed to make ends meet. However, by 1865, all of Eleanor's children had left home and families of their own to support. Eleanor moved to 75 Chapel Street (highlighted in yellow on the map on the right) where she rented a room from a blacksmith and his family.
By the 1870s she found it increasingly difficult to earn her living with her needle: not only was her hand less steady and her eyesight less sharp, the widespread introduction of the mechanised sewing machine had reduced the demand for needlewomen. As her circumstances reduced, so did her living conditions. Her next move was only a step away from destitution and the workhouse. Wood's Yard (circled in red) was one of a number of courts and alleys leading off of the High Street. Its ten hovels had been built in the early nineteenth century and probably consisted of a brick basement with one or two weather-boarded living rooms above; along with Dean's Court and Channelsea Court, it was one of the slums singled out for reprobation in a report of 1855 which looked at public health and sanitation in West Ham. Of neighbouring Channelsea Court, the report noted:
"The inhabitants have no water except from the filthy river. Little back yards with stinking privies. Cholera was very bad here. There is a drain running from the Forest-gate district past the Stratford station of the Eastern Counties Railway. At that point it is on the company's land and partly covered. The open area is very bad … it takes privy drainage and empties itself into the Channelsea river at a point above where the inhabitants of the Rabbit-hutch row, and the Channelsea-court dip for their water".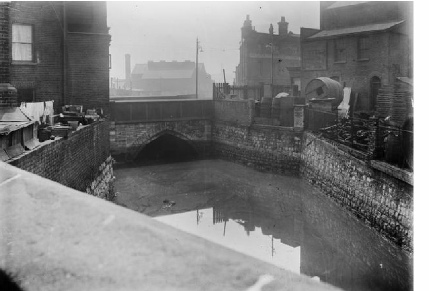 Woods Yard was little better. As well as the unsanitary conditions, the house was cold and damp. Even so, Eleanor lived there for at least nine years, finally dying on 10 May 1890 of bronchitis, at the remarkable age of 88.